OSHA 10 Hour General Industry
By: Click Safety | Format: Online |
Language: English
What you'll learn
With knowledge about the topics listed, you'll be trained on recognition, avoidance, abatement, and prevention of safety and health hazards in the workplace. You'll also be up-to-date on workers' rights, employer responsibilities, and how to file a complaint with OSHA and the Department of Labor (DOL).
Please note that this is course is General Industry based and IS NOT Construction. If you need OSHA 10 Hour construction, click here.
WARNING - Once this course is started, you will not be able to switch or refund.
---
As a general industry worker, you must be aware of the latest safety standards set by the Occupational Safety and Health Administration (OSHA). You also must find time in your busy schedule to complete your required continuing education units (CEU). Designed to allow you to accomplish both, our OSHA 10-Hour General Industry course is an online OSHA-authorized version of OSHA's popular Outreach Training Program and covers what you need to know to stay safe on the job.
*OHSA Outreach courses are provided in partnership with ClickSafety, an OSHA-authorized online Outreach provider.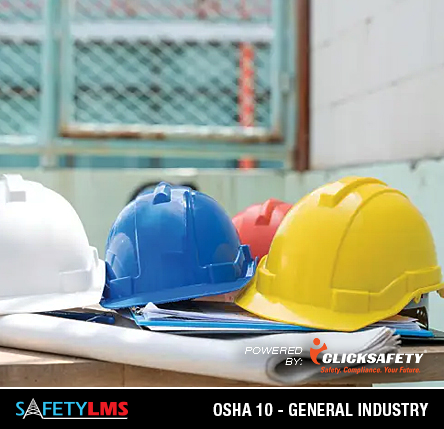 $89.00
Topics covered:
Worker rights and employer responsibilities under OSHA
Requirements for selecting and wearing personal protective equipment (PPE)
How to protect oneself and coworkers from slip, trip, and fall hazards
Major material handling hazards
Fixed and portable ladders
Unguarded and inadequately guarded machinery
Flammable and combustible liquids
Spray finishing, compressed gases, and dipping and coating operations
Electrical hazards
Effects of workplace hazards on the human body and how to protect against them
Activities that can lead to MSD and RMD injury and illness
The major difference between acute and chronic health effects
Emergency egress and access, planning, and fire prevention and protection
The role of management and workers in improving a company's current safety culture
Rights that require workers to know the identity and properties of workplace chemicals
Employer requirements for effectively reducing and preventing employee injuries, illnesses, and fatalities through a safety and health program
See more...